We specialize in delivering trustworthy and innovative web development services that result into smooth functioning and fast running sites to empower your business and surpass the competition.
At Midas, we provide you an array of influential and outstanding offshore web development solutions and services. Our go-getter assistance in web development is sought after in the market for we cater goal-oriented and time efficient services. We have already served diverse national and international businesses with ingenious and new-fashioned web development and designing ideas. We are happy to provide result-oriented solutions to our clients across the globe. We have worked as b2b web development service providers for SMEs from locations like India, USA and UK for industries like retail, banking, animation, travel, manufacturing, wholesale, architecture, education etc. We lead in the technical domain and are competent in delivering latest and end-to-end website solutions. The technical team of Midas offers you complete assistance and innovative solutions for developing efficient navigation strategy and overall structure.
Notable benefits of getting Midas web development services are:
Smart and nimble site that runs fast and is easy to navigate.
Effective and coherent management of online projects and ventures.
Improving and increasing the online prominence for better correspondence and communication with customers and clients.
Emphasizing on Return on Investment and maintaining efficient resource utilization in operating business processes.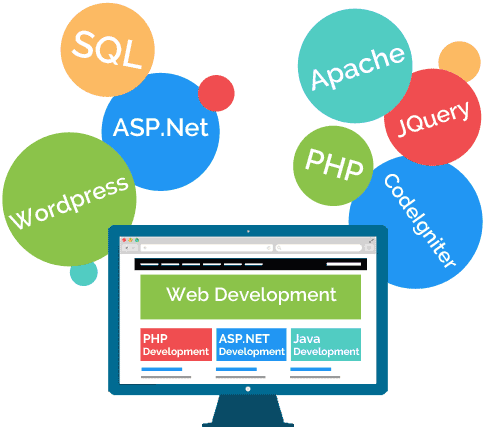 Project Management and Six Step Approach
Project Analysis
Project Designing
Testing and Quality Assurance
Test Server
Project Completion & Implementation
Review and Maintenance
Collection of Web development Services that we provide:
Custom Web Development
Through custom web development service we deliver the rapid action solutions according to the requirement so that you don't have to adjust and compromise on the web design setting and depend on the available template.
We focus on developing quality and perfect web applications that are user-friendly and achieve the business objective. Proper research, planning and finest strategy is used in developing web applications for sorting heavy data and transactions.
We develop secure and organized enterprise portals that focus on portal management, quality content delivery and smart user interface and managing supply chain. We provide integrated and personalized web interface for both the users (internal as well as external) to aid in organizing business.
Whether you are a small enterprise or medium, we prove cutting edge e-business solutions for diverse market verticals. At nominal price you get service management and latest technical services for e-Commerce, e-Business and B2B to excel in the web market.
Our custom designed content management system solutions will provide user-friendly and interactive website. Our turnkey CMS solutions will include prominent features like access control, content collaboration, social media integration and much more.
Our Technical Prowess and Expertise:
LAMP (PHP/MySQL) / PHP Development Services
| | |
| --- | --- |
| Frameworks | CakePHP, CodeIgniter (CI), Zend, Symfony, YII |
| open source | Joomla, Magento, Drupal, WordPress |
| AJAX Frameworks | Prototype, JQuery, Yahoo UI Library |
| Databases | MySQL 5.x, PostgreSQL |
Microsoft ASP.NET (C# & VB.NET) / ASP.NET Development Services
| | |
| --- | --- |
| Web and Desktop Applications | ASP.NET (MVC3), ASP.NET 3.5/4.0 (C# / VB.NET) Web Services, AJAX, Windows Workflow Foundation, Silverlight, Sharepoint |
| open source | NHibernate, Log4Net, Spring.NET, Quartz.NET |
| Databases | SQL Server 2005/2008, Oracle 8i/9i/10g |
Java (J2EE/J2ME) / Java Development Services
| | |
| --- | --- |
| Java Programming | J2SE (JDK 1.4/1.5/1.6), Java Server Pages (JSP), Enterprise Java Beans (EJB 3.0/2.0), Java Server Faces (JSF), Java Applets, Java Servlets, Java Messaging Services (JMS) |
| J2EE Application Server | Apache/Tomcat, BEA WebLogic, IBM WebSphere, JBoss Application Server |
| Web and User Interface | MVC Frameworks like STRUTS with TILES, Spring Web Flow, Tapestry, Velocity Template engine AJAX using GWT (Google Web Toolkit) |
| Database & ORM Tools | Hibernate, MySQL, Oracle, Microsoft SQL Server (MSSQL), JDO and JPA |
| IDE Tools | Eclipse, Netbeans, JDeveloper, Rational Application development (RAD 6.0) |
Mobile (iOS/Android/Windows/Blackberry)
| | |
| --- | --- |
| iOS (iPhone/iPad) | iPhone SDK, Cocoa Touch, Xcode, Objective-C |
| Android | Eclipse, Android SDK, Android Native Development Kit (NDK), Android DT (ADT), Java |
| Windows Mobile | MS Visual Studio, .NET Compact Framework, Visual Basic, C# |
| Blackberry | BlackBerry Java DE, Eclipse, BlackBerry Theme Studio, Java ME, BlackBerry SDK, Java |