Outsourcing the critical software tasks and projects is an efficient approach and more in practice in accelerating the business and achieving smooth project delivery and management within the given time and budget. Outsourcing software development will provide you with risk-free and flexible services which can be adjusted to the demands and needs.
Midas takes pride in being one of the recognized IT companies delivering to diverse customers in multiple industries like retail, travel, logistics, government, hi-tech and manufacturing etc. Our integrated software development services are also available as offshore assistance and we make sure to deliver required valued services that serve even the complex business targets.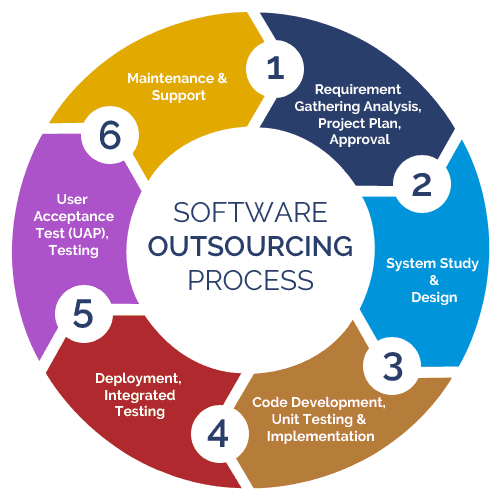 Midas & Outsourcing Software Services
Cost Saving on Projects:
In-house labor could cost more and hence to work efficiently you can easily outsource your labor and for that we provide you the best services for development projects at nominal rates. Outsourcing your software development projects will convert your fixed operating costs into variable costs.
Time-efficient Project Execution:
Another advantage of outsourcing your software development services here is that we will provide round the clock services to make sure that app development phase takes the least time and product is completed in time and marketed much before your competitors.
Best Skills and Resources on board:
We are the core service providers for software development and hence when you handle us the development project we make sure to provide only relevant and industry trained professionals who are qualified to complete the task.
Compliance & Accuracy:
Another perk of getting offshore software development services at Midas is that you get automated compliance system service that will directly ease up the business processing by reducing the human follow-ups making the whole project management more efficient and cost-saving. The work accuracy can be improved with outsource development since it becomes easy to meet the deadlines.
Advanced Technology:
While in-house processing can take time due to handling the hiring procedure and providing the essential resources for supporting the project; the outsourcing service providing organizations like us will provide you top of the range resources to start the developing work without any delay & access to the brightest and leading professionals who can manage the target project.
Risk Reduction & Productive Result:
To achieve better output we use quality resources within your budget for the whole process of project management to save not just cost but also time. Since we use tried and tested project management system for application development, it reduces the risk factor. Outsourcing the services make it simple to maintain and develop successful applications that will benefit your business.
Save
Save
Save