With our unparalleled managed IT services we deliver excellent and comprehensive IT support for businesses of all sizes. We follow responsive and progressive approach when providing managed IT services. We have outsourced our services for businesses that are located all round the globe.
To meet the needs of our clients and related businesses, we provide unique and customized solutions that we develop using the latest set of Information Technology tools. With our team of over 70+ highly skilled IT professionals we deliver innovative and exceptional measures to achieve satisfactory performance result. We believe in delivering valuable services to our clients whether it is for the integrated solutions or end-to-end managed IT services. Our par excellence IT services are the reactive approach in handling your IT issues to improve business management by eliminating and fixing the pitfalls that can break business operations. We support you and help you in staying ahead of your competitors by providing proactive services that will operate, implement, design, manage and also monitor all sorts of Information Technology networks, users and devices. Our end-to-end services provide you diverse managed IT services like 24×7 help desk facility, cloud solution, storage solution, mobile device management, security service, on-site support and much more.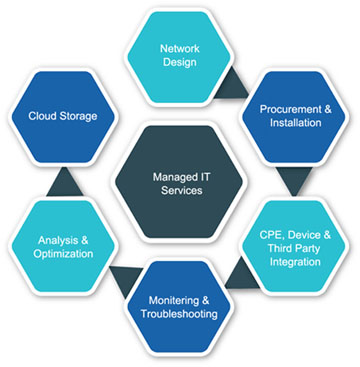 Our Trusted Managed IT Services
Round-the-clock & relentless technical support
Proactive system monitoring service
Patch management service
Fixed costs
Remote helpdesk & technical support sessions
Onsite emergency assistance
Server/workstation patching
Application blocking
Application Bandwidth Tracking
Backup maintenance service
Monitoring and alerting of systems
Email protection
Spam protection
Desktop optimization service
Application maintenance and deployment
Web and antivirus protection service
Virus monitoring service
Advantages of Managed IT Services
Round-the-clock monitoring service will contribute in the business progress and also keeping a watch on possible future issues that can be managed beforehand.
It is essential to keep the network and data safe and secure and hence managed IT services deliver you enhanced and reinforced security services.
Managed IT services make it possible to maximize the uptime and addressing the issues and failures that can affect the business growth.
Highly efficient Information Technology asset management to deliver distinguished operational services.
We have the right resources and top of the line skill sets available that serve best in delivering the result on time.
You get the access to cutting edge IT infrastructure and resources and all these services are cost-effective and easy to leverage for the business management and development.
Be comfortable and content because your invaluable assets are in the right hands of the experienced IT company which is also a recognized outsourcing firm.
Save
Save