With Midas, experience the convenience of time and cost-efficient application development and management. Our skilled resources and vast expertise in customized application development are capable of achieving desired goals for your critical business projects. Till date we have successfully delivered dozens of high-performing and scalable customized application solutions.
We handle offshore as well as onshore projects for customized application development using efficient and quick methods and providing end to end development services. Our tech-specialists are expert in managing and developing solutions for most complicated projects and delivering excellent bespoke development services to streamline your business process and contributing in increasing the revenue of your business.
An advantage of getting customized application development service is that you don't have to alter your business processes to efficiently use the product. The bespoke software end product that we deploy comprises essential and desirable functions to support your business. Our finely-tuned software applications will not just reinforce your business operations but also simply the operational processes that will save time and money.
Unlike off-the-shelf development solutions, from the start our customized applications are built as per the requirements of the business. Since, your tailor-made application will be equipped with essential features; there are minimal chances of experiencing any complication or issue. Our modified application development services and solutions also deliver enhanced business security by keeping your business processes private. In order to increase and enhance the performance of the already deployed applications, we provide reliable technical support to support your long-term as well as short-term business targets.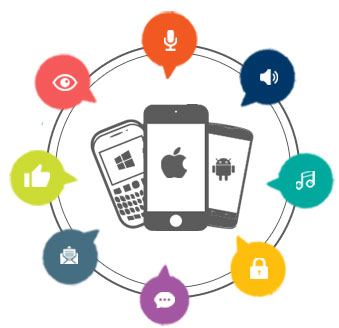 Operational Models for Organizing Business and Technical Domains
Waterfall Model
Iterative Model
Prototyping Model
Rapid Application Development
Rational Unified Process Model (RUP)
Customized Application Development Process
Analyze:
It is the first stage of assessment that includes feasibility check and business requirements.
Design:
The second stage of customized application development process evaluates user requirements, studying existing system evolution and coming up with logical system design.
Develop:
During the third stage of application development detailed system specifications including software coding will be handled.
Testing:
The fourth stage of application development life-cycle our engineers will test the customized application, also check for bugs and doing fine-tuning of the app created.
Finalize:
The last stage of the development is doing final evaluation and deploying the project. Even after deployment, we provide maintenance and enhancement services.