We endeavor to bridge between IT and business to deliver strategic and reliable IT operational services that can impact your enterprise and create extra revenue by strengthening the IT infrastructural performance. We provide valued services like security of your data, complete software migration and re-engineering, while also maintaining application integrity by protecting the software asset of your enterprise.
At Midas, you get highly certified IT solutions in India and around the world, making it possible to cater to your organization's goals, needs and budget to assist and provide you with clear solution options. Within the past decade long journey we have received recognition in the industry due to our focus on delivering excellence and customer satisfaction. Many enterprises and organizations in the industry are at an uncertain stage and risking their business by relying on the important legacy applications which are depending on obsolete or unsupported platforms. Our software migration and deployment services are simple and agile to deliver portable application solutions. A wide variety of platform technologies are available which have been working as operating platform for diverse businesses in different industries. One of the main challenges that such businesses face that have been running for decades is to keep their applications at par with the today's technology and that's where we come into the action by revamping and modernizing your obsolete systems, outdated operating systems, compilers, databases and languages. Being a decade old organization, we have meticulous knowledge and working functionality of old and new systems. We ensure you successful migration of your application and software with our cross-platform experience and practical-knowledge.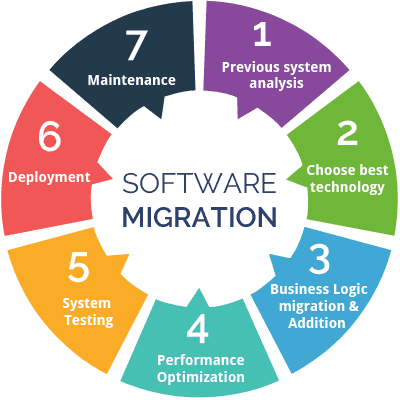 Midas Facile Software Deployment & Migration
There could be various levels of service required to perform data or software migration. We perform effortless service by providing complete assistance to benefit your business by providing automated data synchronization.
Assistance
Our field-tested professionals will diligently work to give a fast start and pace to the migration project completion. Our quality migration assistance will work with your team to accomplish the target soon enough.
Maintenance
To make sure that post-migration the work performance is not affected our professionals keep a check on the areas that can be improved using proper maintenance services like keeping the system and application up to date and fixing bugs etc.
Modernization
Our engineers vision in creating swift and agile technical support system that can achieve not just long-term but also leverage the changing goals of the business. We not just provide software migration services but also look out for various ways to make these technical assets more efficient and by using web services we try to expose its services.
Secure data integrity and migration objectives
When we move your application from one platform to other, we make sure that full-production deployment is secure and the complete re-engineering planning also meets the deployment objectives.
Our Services:
Software migration and planning services
Cloud migration and re-engineering services
Cost-efficient Integration services
On-site installation of software and applications
Testing and assessing the migration services
Complete-production migration and deployment services
Save
Save
Save