Midas offers you process-driven and productive web application development services. Our well-crafted custom web based application development is also available for outsourcing and business services.
We are the industry experts delivering finest customized web application solutions achieving ultra-modern and ingenious app development results to accomplish the business objectives. To match the ever changing technical sector we provide you prototype and out-of-the-box solutions for web application and offshore web app development services. We focus on developing quality and perfect web applications that are user-friendly and accomplish the business objective. Proper research, planning and finest strategy is used in developing web applications for sorting heavy data and transactions. We are efficient in designing and developing streamlined web applications and providing rich-functionality when the line-of-business requires transferring and managing colossal data. We are tech-pundits in making your business stand out in this competitive scenario. We have completed inshore and offshore custom web projects that require simplifying the complex business concept and making the application easily accessible to the target customers. Our high-performing web applications are conducive and we provide all these amenities at a nominal rate.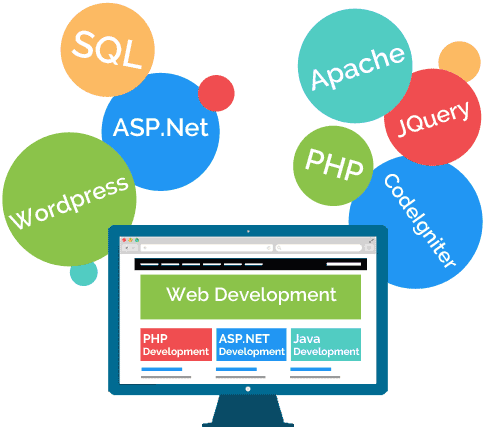 We're Proficient and Lead in Diverse Technical Spheres
In our decade long journey, we have managed, supervised and operated hundreds of projects and every time we have created success stories by delivering the desired result. Our tech-team is skilled in navigating the undertaking and devising modern strategies to produce reliable result that will strengthen your online presence. Our cross-platform experience and latest methodologies comes into play when designing and delivering remarkable application solutions to our clients of India or across the world.
LAMP (PHP/MySQL) / PHP Development Services
| | |
| --- | --- |
| Frameworks | CakePHP, CodeIgniter (CI), Zend, Symfony, YII |
| open source | Joomla, Magento, Drupal, WordPress |
| AJAX Frameworks | Prototype, JQuery, Yahoo UI Library |
| Databases | MySQL 5.x, PostgreSQL |
Microsoft ASP.NET (C# & VB.NET) / ASP.NET Development Services
| | |
| --- | --- |
| Web and Desktop Applications | ASP.NET (MVC3), ASP.NET 3.5/4.0 (C# / VB.NET) Web Services, AJAX, Windows Workflow Foundation, Silverlight, Sharepoint |
| open source | NHibernate, Log4Net, Spring.NET, Quartz.NET |
| Databases | SQL Server 2005/2008, Oracle 8i/9i/10g |
Java (J2EE/J2ME) / Java Development Services
| | |
| --- | --- |
| Java Programming | J2SE (JDK 1.4/1.5/1.6), Java Server Pages (JSP), Enterprise Java Beans (EJB 3.0/2.0), Java Server Faces (JSF), Java Applets, Java Servlets, Java Messaging Services (JMS) |
| J2EE Application Server | Apache/Tomcat, BEA WebLogic, IBM WebSphere, JBoss Application Server |
| Web and User Interface | MVC Frameworks like STRUTS with TILES, Spring Web Flow, Tapestry, Velocity Template engine AJAX using GWT (Google Web Toolkit) |
| Database & ORM Tools | Hibernate, MySQL, Oracle, Microsoft SQL Server (MSSQL), JDO and JPA |
| IDE Tools | Eclipse, Netbeans, JDeveloper, Rational Application development (RAD 6.0) |
Save
Save