Winning and progressing on the digital market is all about setting the right goals and using the right strategy. Midas is a reputed internet marketing company that has technical expertise in providing latest Search Engine Marketing. Our marketing strategy for pay per click marketing is a quick way to get search engine visibility.
PPC advertising and marketing is an effective and controlled way to generate traffic when you have set budgets. Our strategy is to maximize the Return on Investment of your advertisements and campaigns. We have a team of pro-active search engine marketing professionals who know what they are doing. Our professionals are dedicated and capable of investing their time and effort in achieving the desired goal of guaranteed exposure that will help your business to get the needed traffic boost and ranking in the top of the search engines. Through our pay per click management service we focus on increasing the relevant traffic for your website. Through our PPC management strategy, we aim to generate more sales and qualified leads and reducing the number of dead leads. Keeping in mind your business goals we design paid search engine campaigns that cater to your enterprise growth by increasing online sales and site engagement.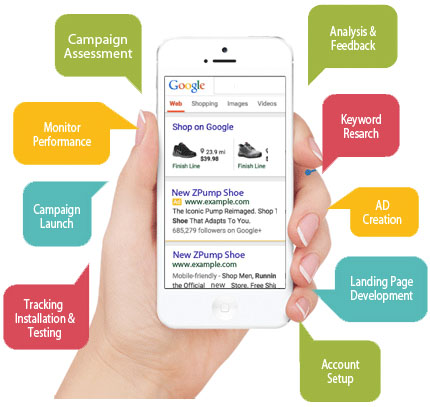 MIDAS PPC Process
Stage 1: Introduction
In the introduction phase, we make sure to learn and collect information related to the client's business goals, their competitors, website etc.
We do the project briefing and defining project information like budget, business goals, audience, geographic location and campaign login credentials.
Conducting PPC audit for current website and acquiring statistics related to landing pages and analytics.
As per the project briefing and PPC audit, determining potential keywords.
Determining risk and opportunity areas on the basis of keywords research performed.
Stage 2: Plan
Developing a thorough and all-inclusive project and PPC strategy that defines the target business goals to achieve as well as results that will be delivered.
Specify and outline paid search engine marketing and Remarketing campaigns. Provide details related to ad copy, chosen methodologies, landing page suggestions and recommended campaigning budget.
To assess the performance of the campaign, maintaining a record of short and long term goals that are achieved.
Stage 3: Campaign Set-up & Creation of Landing Page
Executing landing page recommendation as per the PPC strategy.
Designing landing page with powerful calls to action for the target campaign and enhancing the brand marketing. Editing the running campaign as per the PPC plan.
Keeping track of the page load time and ensuring implementation of conversion tracking for the created landing pages
Stage 4: Optimize the performance
Regulate and modify the existing campaign on the basis of the performance of target keywords, ad copy and landing pages.
Administering short-term adjustments like change bids, landing pages and ads. On the basis of the performance, directing daily short-term adjustments.
Administering weekly adjustments to the campaign to stay at par with the latest trends in the market.
Stage 5: Campaign Performance & Reporting
Reporting monthly performance of the campaign that will include tasks which are completed, work plan for the successive month.
Documenting and reporting the quarterly result and overview of the campaign also adjustments that are administered the project strategy.
Save