Midas is capable, experienced and adept in addressing most complex IT and business needs with our leading and most appropriate enterprise mobility solutions. Our solutions will assist your business in becoming the top-tier and first-rate competitor in the market. Our robust enterprise mobility platforms are capable of empowering your enterprise business with smart mobile computing solutions.
In today's digital time when technology changes every second, it is a necessity to employ enterprise mobile applications and latest mobile technology to serve the target customers efficiently. We have developed custom-built and robust enterprise mobility solutions which are cost-effective and adaptive to the changing technology and assists in streamlining the enterprise operations.
Our mobile application solutions are customer-centric which are available for standards-based, integrated and open platforms. Our enterprise mobility service provider team assists you in developing a strategy to develop efficient mobile applications that serve the consumers (that is B2C services), employees (that means B2E services) and customers which is B2B services.
Midas has rich experience in developing cost-effective web, native and hybrid enterprise mobile applications for prime mobile operating systems like Windows, iOS and Android. Our services help in delivering functionality and back-end data to the mobile applications by connecting the existing enterprise system to the applications.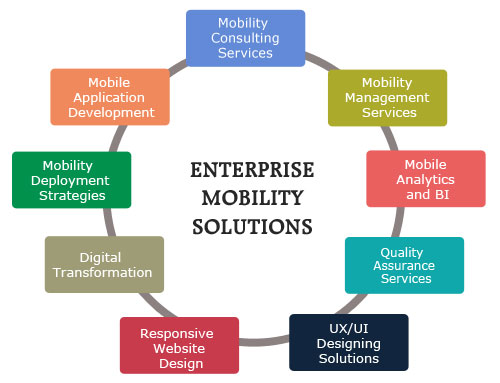 Key Services of Midas Enterprise Mobility Solutions
Enterprise Mobility Consulting Services and Advisory Services
Enterprise Mobile Application Development Services (Native, Hybrid and Cross Platform)
Enterprise Mobility Deployment Strategies & Services
Digital Transformation & Enterprise Mobility based on CAMSS/SMAC
Responsive Website Design Solutions & Services
UX/UI Designing Solutions
Mobile Application Quality Assurance Services
Mobile Analytics and BI
Enterprise Mobility Services for Legacy Applications & Systems
Enterprise Mobility Management Services like, Mobile Application Management, Mobile Device Management, Mobile Application Analytics, Mobile Operations & Support Management