Reinforce your business potential with robust and top-of-the-range enterprise application development solutions. Reshape and upgrade your modern enterprise in the current global market by embracing leading enterprise software solutions which are business-oriented tools and services.
Midas provides enterprise application service which works as a nexus for your enterprise by integrating with your firm's business processes. Our well-organized and streamlined enterprise application caters to the need of your business strategies. Our turnkey solutions and bespoke package development services are available as offshore and outsourcing services.
Our endeavor is to develop smooth-running and labor-saving development systems to simplify efficient distribution of information and data within an enterprise. Midas offers you full-cycle enterprise application development and delivery services. By integrating your existing software solutions we deliver seamless enterprise application and integration solutions. Our tailor-made enterprise applications ensure security and cutting-edge functions which contribute to the productivity of the business.
Our tech-savants design and develop enterprise applications that can support the long-term business objectives. We strategize and develop scalable and robust applications which can be maintained and re-organized with the changing requirements of the business. Unlike consumer applications, enterprise applications require different designing and developing approach and hence our efficient technical team utilizes the best tools and delivers end-to-end services.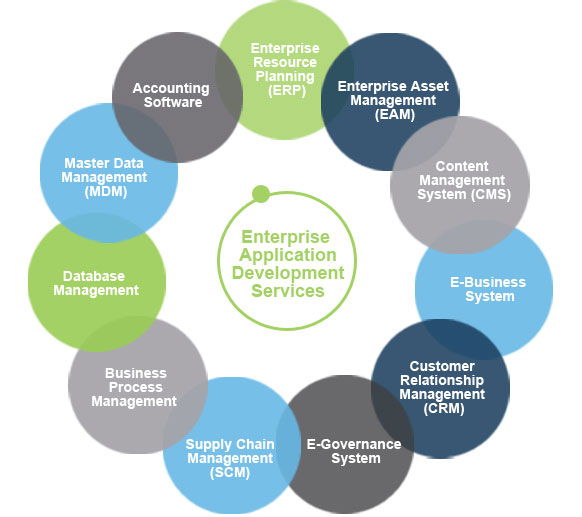 Enterprise Application Development Services
Enterprise Resource Planning (ERP)
Enterprise Asset Management (EAM)
Content Management System (CMS)
E-Business System
Customer Relationship Management (CRM)
E-Governance System
Supply Chain Management (SCM)
Business Process Management
Database Management
Master Data Management (MDM)
Accounting Software